We loaded all our stuff in the bus and boarded the ferry for Vancouver island for a weekend of shows. The last time we were in Nanaimo our show got cancelled at the last minute. Even though it was a bummer, we managed to make the best of it by getting together with a select handful of concert would-have attendees, and partook in a late night game of grounders in a local playground. It was there that we built the relationship with the guys in Top Men, a group of ridiculously creative guys with a sound that would remind you of a slightly more psychedelic version of Chromeo.
Fast forward several months later. Paul, the drummer from Top Men had informed us of the theme behind this show a long time in advance. Robots vs Ghosts. Cruel Young Heart would be the robots, and Top Men would be the ghosts. Fans would have the choice to dress up as they please. Representing the ghost clan, or the robot army, and after both bands had played the robots and ghosts would engage in a dance battle that would determine who would rule the world from that day forward.
When we arrived at the venue we couldn't believe what we were seeing. Top Men and their crew had completely transformed the building and stage. There was a giant robot head behind the drums. Its mouth would open up in a plume of smoke, spitting our band out on stage to play our set. There was a grave yard, ghosts hanging from strings all around the stage, a giant gun with the robots used to attempt to kill the ghosts, balloons that came down from the rafters, and confetti cannons to cover the robot and ghost fans in a blanket colour. We even had two robot back-up dancers on stage during our set.
When the crowd of people started coming through the doors and filling up the venue with their robot and ghosts costumes we knew we had better have the camera rolling, because there was going to be a lot of funky things happening that we needed to get on film for you.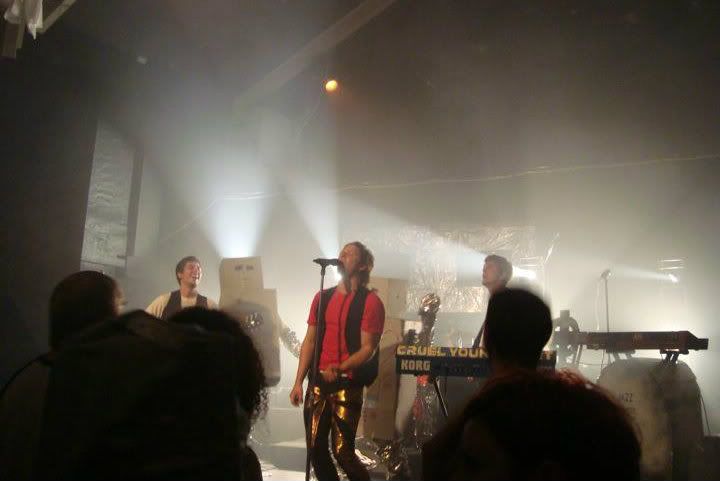 We debuted our disco ball head that night. You might see it come out again when the moment is right. There were some pretty rad costumes, one girl had a silver get-up with a big square robot head with giant eyes. Another guy had a big white, red and green robot suit. Nanaimo, YOU ARE COOL!!!!!!
THE AFTERMATH! CASEY IS JUST STANDING THERE IN HIS LITTLE GOLD TIGHTS NOT KNOWING WHERE TO START…